This is an experiment. The goal of the experiment was to make a pilsner without the use of a refrigerator. Why? Well because I don't have a suitable refrigerator and I am sure that lot's of people like to make beer but don't have the room for another piece of furniture.
My first thought went to using wine yeast. Wine yeast usually don't create a lot of esters and ferment until the last grain of sugar is eaten. Unfortunately wine yeasts don't flocculate as well as beer yeasts. Champagne yeast is the best among the wine yeasts in that aspect. It also is a very strong yeast that can tolerate high levels of alcohol.
However after some research I found that wine yeasts cannot handle the more complicated sugars in beer. Of course the internet is not a great help because I also found some sites that claim that wine champagne yeast can ferment beer to dryness. Great, all this "information". What can you do?
I decided to try it. So I made a simple recipe for pilsner which I fermented with champagne yeast. I made some changes to improve my chances for success and suitable for my situation:
I used mash temperatures which started a bit lower so I would get more "simple" sugars.
Since I don't have a refrigerator the fermentation was at room temperature.
I stopped chilling wort some time ago and did not see a reason to do this.
Since I like the Turkish hops I used them instead of the hops mentioned in the recipe.
The fermentation started like crazy and after 2 days it looked as if it was finished already. I always leave the demijohn in peace for at least 2 weeks and then I measured the gravity. The hydrometer stopped at 1020.
This was not great news. When you look at the table you can see that the residual sugar is 50 g/L. This is obviously very much and it means that only 3,5% alcohol had formed. After bottling this would total to approximately 3,9%.
I decided to continue and see what would happen. After a few weeks I tried the beer and it was very nice. It was not pilsner but much more like wheat beer. An aroma of bananas and a good body. Since the higher sugars don't taste sweet it actually feels reasonably dry and fresh. The colour is rather light and it is cloudy. Probably because the champagne yeast cannot compete with beer yeasts in terms of flocculation. In a strange way you don't have the feeling that there is only little alcohol in it. Perhaps the higher sugars also give an alcohol sensation. I should look into that.
Anyway, the recipe is as follows:
Goal (Or I should say: Unexpected result)
Amount 15L
Efficiency 68%
IBU 24
EBC 8
Starting SG 1047
End SG 1020
ABV 3,5%
Ingredients
3,5kg Pils malt 3 EBC
11 g Brewers gold from Turkey 9,5% for 75 min
4 g Aroma from Turkey 8 % just after boiling
11 g champagne yeast
2 g CaCl
2 g Citric acid
Mashing
62 C for 45 min, 72 C for 15 min, 78 C for 5 min.
Boiling time
Remarks
No chilling after boiling.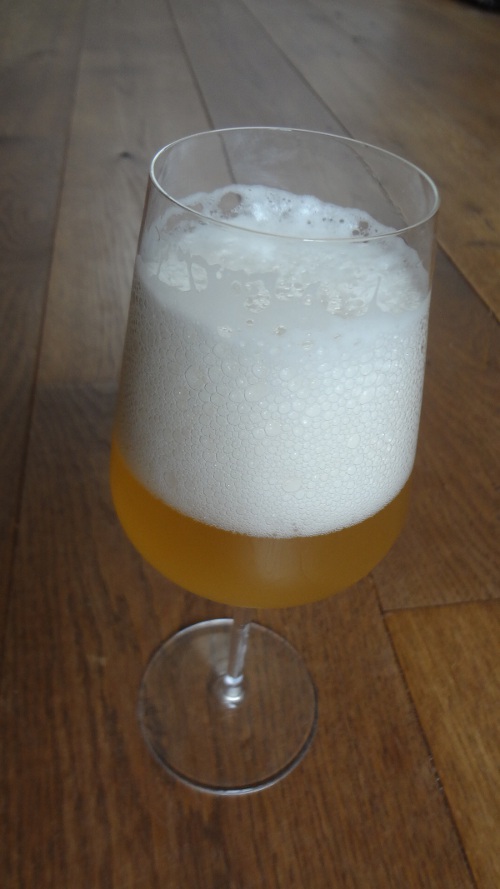 With all the modifications it is not a surprise that the beer did not turn out to be pilsner but some lessons were learned.
Champagne yeast can definitely be used in beer making. It does not create a lot of alcohol but still gives you a full bodied beer. I believe that it would be very suitable for a wheat beer.
Champagne yeast does not ferment all the sugars in beer. If you want a low alcohol beer because your friends cannot handle it, please start your own experiment.
Since this experiment is very drinkable I will start a new experiment very soon. That is what I love about making beer. It may not be what you aim for; It can still be very good!
Cheers
Hans